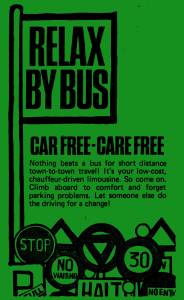 Gavin Booth gave some fascinating figures at the recent East Lothian Bus Forum, which compared and contrasted timetables today and under the old SMT, in the 70s.
A conclusion that one can draw from such comparisons is that bus services are as good today or better in terms of frequency. That was not the conclusion I had drawn from my own cursory examination, ie not especially rigorous, as you would expect from one who regularly beats people up with statistics.
Maybe I am easily distracted by classic design and typography, but these old timetables seem to show a denser network of routes and destinations, and that less services wasn't necessarily a worse service overall. Perhaps it reflected a different rural world, one that was far less populous, with many more shops and services that were provided locally. One that was only just starting to become reliant on the private motor car, and one where I guess most people were employed much closer to their home and trains were run as a complementary service. Maybe people didn't complain as much then as they do today. Continue reading What will rural public transport look like in the future?